---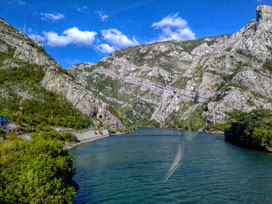 views on our ride to Mostar 
---
For us, renting a car wasn't an option, so we made it work using local buses and were surprised as to how smooth, easy and cheap they ran! 
The country has a large network of long distance, intercity and international buses as they are the most used form of public transport.
Most of the time, the roads are decent and while most buses have clocked up their fair share of years,
we still felt safe taking them. 
Some of them do have air - conditioning, mostly the ones going long distance.
The most popular carriers are Autoprevoz, Centrotrans and Globtour. 
Prices between companies can vary substantially, tickets are sold both online and at the bus stations. 
If you're going during summer time, prebooking your tickets can be necessary! 
---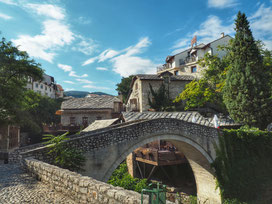 Crooked Bridge - Mostar (2h by bus fom Sarajevo)
Speaking of bus stations, the main hubs are Banja, Luka, Zenica, Mostar and obviously, Sarajevo.
Please note that not all the drivers on national routes do speak English, on most international routes, drivers speak at least one foreign language.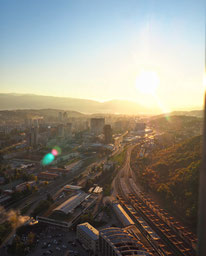 Sarajevo bus station from above 
We bought our tickets from Getbybus and loved their easy booking process as well as their on - point custumer service.
We sent in an inquiry and they replied faster than we were able to refresh our mail - account. 
Most tickets need to be printed out, just a little heads up on that if you're booking on the go.
- Sometimes tourist offices let you print them and throughout bigger cities, internet cafés are still to be found. 
---
Here are some tips we'd like to share with you!
• Keep some small change on you, as luggage to the hold is usually charged extra at 1 KM (about 0,5€).
The driver will proceed to put a luggage lable on your bag and hand you the receipt to pick it up at your destination.
• Show up a couple minutes before departure, for 2 reasons.
One, if you have an Online - Ticket, you need to go up to one of the ticket clerks (most of the time, it's the "info" – counter), show your ticket and get what can only be described as a small piece of paper with a barcode.
This procedure may seem weird, but without following this step, you won't gain access to your bus, as there's another staff member scanning said code at the entrance to the platforms.
Sometimes you'll have to pay another 1 KM extra to actually get to your bus, which, again, may seem strange, but that's just how things run here.
Two, there are often no allocated seats, so being early for your ride gives you the best chance to grab your favorite seat.
• Don't overplan! Bosnia and Herzegovina is such a diverse and stunning country and we get that it can be tempting to try and see as many places as possible during your stay. The thing is, you'll most like spend more time on the bus than what it says on your ticket. Why? Because there are (at least at the moment) quite some construction works on the main roads going on. 
---
Some additional words of advice in case you're contemplating to go Sarajevo –Ljubljana by bus.
(Because we had to due to Adria Airways going out of business and truly struggled to keep our sanity somewhat intact.) – Don't do it. At least don't' do it in one ride. 
Even though it might sound like a great deal (our tickets were about 30€ combined), border checks on both the Bosnian – Croatian (external border of the European Union) and the Croatian – Slovenian – border (Schengen Border) can be extremely time- consuming to say the least.
Also, bus tickets only show an estimated travel time and a small note telling you about "potential delays" due to border waiting times.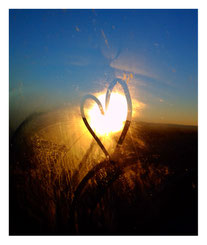 We didn't mean to scare you off by any means, after all, traveling through Bosnia by bus was really fun & exciting experience! 
If you're up for keeping your travel plans rather loose, don't mind some little (literal) bumps in the road, you'll have a great time!
Sitting back while the bus takes you along winding roads past small villages and mosques, has been an remarkably relaxing experience. 
So was striking up conversations with locals who willl more often than not be very interested on where you're from and what your plans are.
They'll be longing to know whether you like their country, if you already got the chance to try Cevapi and what your favorite place around the country is.
Beautiful sunrise on our arrival ♥
---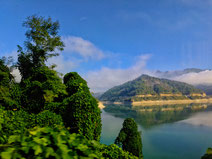 ---
---
Don't hesitate to ask locals for help!
Even if they don't speak English, they'll most likely either get someone else to help you or try to communicate using hand signs and broads smiles to guide you along. ♥
The hospitality we've been blessed with on our trip was fantastic and sometimes all it took for locals to check on us was us standing at the bus station looking all confused as to which bus to get on.
---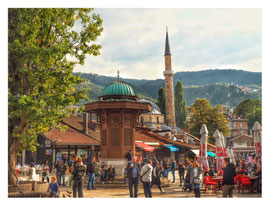 Beautiful Sarajevo Old Town
---
To quote a local's view on the bus network:
"..public transport in Bosnia runs like a clockwork, an old clockwork still working, put always off by at least 10 minutes."