* This blogpost does not contain sponsored content.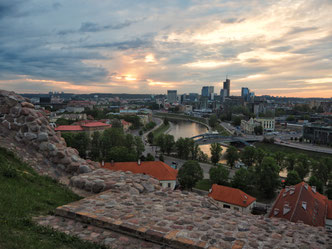 "Really, again?",
"Haven't you just recently returned from Viilnius?",
"You guys might as well consider moving there!"
This is just a small selection of reactions we get when asked about our latest and favorite destination.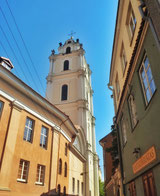 One of the major benefits of traveling quite regularly is a sense of a place feeling "right" developing along the way and this city hit the spot on the very beginning.
When we first landed in Vilnius, our 4-day stay marked the end of our very first backpacking trip through Latvia and Lithuania.
We had the most amazing time and it never felt harder to pack up and leave.
This hasn't changed by now and it probably never will!
Our "travel list" grows longer every day and still we decided on booking two stays in Vilnius this year, because planning a year's worth of trips without considering one of our happy places just didn't feel adequate.
We catch ourselves looking up fight deals to Lithuania on a regular (read: weekly) basis and every time we fly up to Vilnius, we already dread the moment of boarding our home bound flight before we even set foot on the outbound one.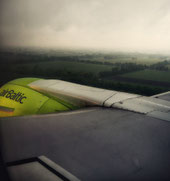 Vilnius is genuinely easy to fall in love with.
The infrastructure works absolutely perfect, the bus from the airport to Old Town (Senamiestis) is only 1 Euro and once you've made it to the city center, pretty much everything is perfectly walkable.
It's the laid back vibe that catches you the minute you walk down Pilies gatve taking you down to Cathedral Square, the heart and core of the city.
We could easy lose a few hours sitting at this magical square taking photos and watch life go by.  
Don't miss out on having a close look at the Cathedral from the inside! Be prepared to be blown away!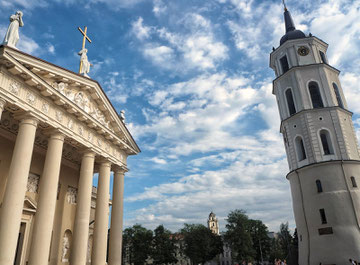 Coming to Vilnius feels very close to coming home. 
For us, it's the warm comfort of getting back to a well known place mixed with the excitement about still finding new places around town and making new memories all over Lithuania's capital.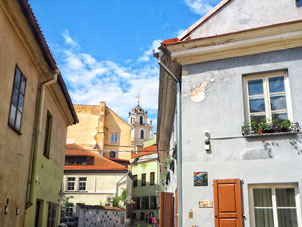 If you come across people spinning around themselves next to the Bell Tower of the Cathedral, it's because they've found "Stebuklas" ("miracle" in Lithuanian).  Local superstitions and history swirl around this special tile hidden in the vast Cathedral Square. It's most famous for its magical, wish-granting properties, but it also represents a momentous day in Lithuanian history. From August 23, 1939 until about 1991, Lithuania was considered a Republic under the Soviet Union, much to the protest of its people.
On August 23, 1989, approximately two million people joined hands across Lithuania, Latvia, and Estonia to make the Baltic Way, the longest unbroken human chain in history, spanning over 370 miles. The chain ended in Vilnius, right at the stebuklas tile in Cathedral Square.
Here's what you do: spin around three times clockwise, jump up and clap once (not necessary, but entertaining for those watching you), and make the biggest wish that comes from your heart.
Good Luck!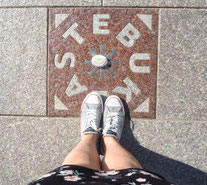 Vilnius' 574.147 inhabitants enjoy almost half of their city being covered by green areas, such as parks, public gardens and natural reserves, so there's no shortage of peaceful spots for some outdoor downtime!
Discover the quirky Republic of Uzupis crossing the Wilna river and don't miss catching the sunset from Gediminas Hill!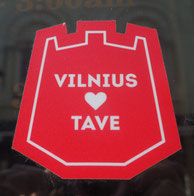 We don't' want to miss out the chance to talk about how warm and friendly we've been greeted in Vilnius every single time. Locals will always be happy to help and a few words in Lithuanian will always go a long way!
Also, try some local foods such as Saltibarsciai (traditional beetroot soup, served with a dollop of sour crème), Cepelinai .(dumplings made out of grated potatoes and filled with ground meat, cheese or mushrooms) or Kepta Duona (fried bread with garlic, a great snack to accompany a cold beer) while you're there!
Have a taste and thank us later!
A major aspect for us, no matter where we go, is always safety. We can't tell on how many occasions we walked through the old town at night, with our cameras in our hands and our eyes glued to all the buildings light up creating an extraordinary atmosphere. We don't mean to say that we're completely oblivious to our surroundings and we're certainly not careless when traveling, but never once have we felt unsafe or at risk of having our belongings stolen or of being threatened in general.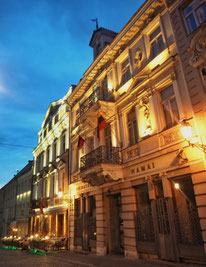 We've seen a number of places throughout Lithuania so far and we're planning to explore this wild and wonderful country further, soon!
If you haven't been to Vilnius yet, we hope this inspires you to grab your camera and get exploring!
Feel free to ask away if you need any more recommendations for your own trip! 
---
Ačui, Vilinus,
for making us feel welcome time and time again!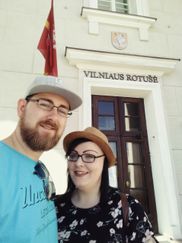 ---
In case you're planning your trip to Vilnius at the moment, we highly recommend AirBaltic for your flights!
We've had nothing but pleasant, on time flights with then so far & their staff is the most attentive! (* not sponsored, our own personal experience *)
In terms of accomodation, there's truly no shortage of cosy spots in Vilnius.
We stayed at the same apartment for the second time in a row because of its brilliant location! 
And if you fancy 15€ off your booking, feel free to follow this link: 
* By following this link you'll be redirected to booking.com where you get 15€ credit back on your credit card for every booking you complete.
We also get 15€ credit. Booking.com does not forward any information about your stay to us. *