* This blogpost does not contain sponsored content.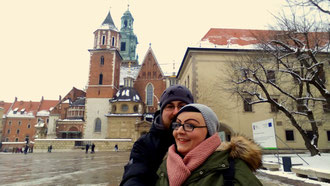 When we first started travelling we had the idea of never visiting the same place more than once.
But now, having learned that no two experiences are the same,- we  L O V E  coming back to places we've already been to.
There's always so much more to discover, new paths to go down and new views to take in.
That's why we were beyond content having found and spontaneously booked those cheap tickets to Krakow (again)!
---
---
We spent the first day of our stay in Krakow and went out to
Wroclaw & the Ausschwitz – Birkenau Memorial and Museum.
Friends and family raved about Wroclaw and since we were only a 3 – hour bus ride away,we took the chance and didn't regret it!
The colorful architecture is enchanted us right away,
so we put the map aside and just wandered along. 
---
We suggest  Polskibus to get around. Tickets are comparatively cheap and available online and at the bus stations. (Getting a seat reservation might as well be a good idea.)
---
While we highly recommend to go see Wroclaw (If you like, just grab a map at the tourist office right at the Rynek and create your own tour.), the Ausschwitz – Birkenau Memorial and Museum of course is a whole different story.
We decided on a visit quite short – term, so we didn't manage to go on a guided tour. 
Basically, we bought a train ticket and went on our own and it took us quite some time to take in the mere dimensions of the area. It's up to you to decide whether you are interested in a visit, but if you are, taking a tour might be a good idea. 
---
How you experience a place is not only a question of the destination, but also of those whom you interact while there. What made this trip extra memorable for us was our amazing host Ewa and her beautiful apartment we got to stay for 3 nights. Not only was she happy to help, answer questions and offered a helping hand before we even arrived, but her positive energy made us feel welcome from the minute we met her at the doorstep.
As we got into the apartment, we were pretty much set up for an amazing stay, since Ewa had even made the effort to leave us snacks, provided lots of useful information and was always happy to lend a hand during the entire time of our trip.  
Our homely accommodation was lovely designed, perfectly spotless and offered everything you could possibly ask for.  We especially appreciated the well equipped kitchenette and the great WiFi – performance. 
Even though it is located on a busy street, your stay won't be disrupted by traffic noise.
– And last but by no means least, let's not forget about the location! A 10 – minute walk takes you the Rynek (main square) and another 15 minutes walking time get you to the Krakow Glowny (main station). 
---
---
Overall, we couldn't have been more in love with the place! We are sure to come back on our next trip to Krakow!
Thank you so much for having us, Ewa!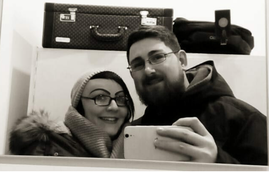 For your trip:
Don't be afraid of the Polish language.
            A few words will go a long way since not everyone in
            Poland speaks English. 
Always carry some small cnange with you, since public toilets will not always be free of charge.