---
* This blogpost does not contain sponsored content.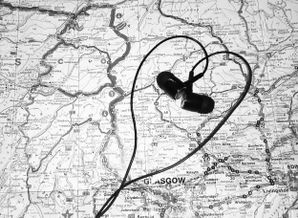 ---
❝ Gonna travel, gonna travel wild and free.
I'm gonna pack my bags because this great big world is calling me. ❞
- Elvis Presley – Harem Holiday 
---
Good music makes for good mood, right?
There's always music playing around the house and while we've accomplished a pretty minimalist way of packing by now, we still won't leave with great music. 
And you don't have to, either! 
Our playlist joins cheers you up,
boosts your wanderlust 
& makes you want to pack your bags right away! 
So far, it's only avaliable on Spotify, but you'll find the tracklist below. 
---
Did we miss out on a great song? 
Please click below to let us know! 
---
Tracklist: 
Drops of Jupiter – Train
Scare Away The Dark - Passenger
Wild Nothings - Golden Haze
Home - Passenger
Take Me Home - BUNT.
Save Tonight - Eagle-Eye Cherry
California Rain - Milow
Ends of the Earth - Lord Huron
Barcelona - Ed Sheeran
On Top of the World - Imagine Dragons
Tokyo Sunset - LP
Wagon Wheel - Old Crow Medicine Show
Hopeless Wanderer - Mumford & Sons
Road Trippin' - Red Hot Chili Peppers
I'm Gonna Be (500 Miles)  - The Proclaimers
The Nights - Avicii
Broken Arrows - Avicii
Whatever It Takes - Imagine Dragons
Life's For The Living - Passenger
Born To Be Wild - Steppenwolf
Sleep On The Floor - The Lumineers
San Diego - Blink-182
Anywhere - Rita Ora
Spirits - The Strumbellas
Paradise - Coldplay
Jubel  - Klingande
Leaving on a Jet Plane - John Denver -
Gypsy - Shakira
There's Nothing Holdin' Me Back - Shawn Mendes
Drive Darling - BOY
Stop and Stare - OneRepublic
Adventure Of A Lifetime - Coldplay
Thunder - Imagine Dragons
Crazy - Lost Frequencies & Zonderling
Galway Girl - Ed Sheeran
Summer - Calvin Harris
Wicked Wonderland - Martin Tungevaag
This Land Is Your Land - Sharon Jones & the DapKings
Take Me Home, Country Roads - John Denver
Little Wanderer - Death Cab for Cutie
Volar - Alvaro Soler
Million Reasons - Lady Gaga
Castle On The Hill - Ed Sheeran
Jet Lag - Simple Plan
More Than You Know - Axwell Λ Ingrosso -
On The Road Again - Willie Nelson
Chantaje - Shakira -
Wherever I May Roam - Metallica -
A Thousand Miles - Vanessa Carlton
The Road To Mandalay - Robbie Williams
The Great Escape - Boys Like Girls
Something Just Like This - The Chainsmokers & Coldplay
Don't You Worry Child ft. John Martin - Swedish House Mafia  
Howling at the moon - Milow
Wolves and the waters - Edward R.
Ho Hey - The Lumineers
Into the wild - Lewis Watson
Keep your head up - Ben Howard
Havana - Camila Cabello 
The Passenger - Iggy Pop
Planets - Teenage Fan Club
Coming Home - Firelight 
Paris - The Chainsmiokers
Wanderlust - Frank Turner
Down Under - Men at Work
I llived - One Republic
Home - Phililip Philips
Big Jet Plane - Angus & Julia Stone
Way back home - Bag Raiders
Time to wander - Gypsy and the Cat
Life for rent - Diido
Holiday - Vampire Weekend
Such great heights - The Postal Service
Life in a northern town - The Dream Acadamy 
Places - Martin Solveig
Atlas Hands - Thomas Jacks
---