* This blogpost does not contain sponsored content.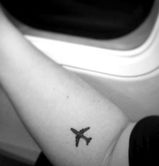 Since we get asked frequently about how we plan our travels,
we'd like to show you the steps we take before the actual take off at the airport.
We travel by plane for the most part, that's why we focus on this way of travel in the points below, but you can of course adjust them to the way of transportation you choose.
We hope this helps. Let's get started!
---
1) Budget.
Dull, but important.
Knowing how much you're willing and able to spend on your trip defines a lot of where you can travel to. 
---
2. Destination.
Once the budget is set, the fun part starts.
Are you going for a city – trip, a few days of wellness or do you crave some sunny days on a beach? It's all up to you!
You only want to read up about things like the weather forecast for your destination to avoid unpleasant surprises.
If you like you can buy a guidebook with a map and all the information you need or just put them together by yourself.
You can print out a map online or get it at the tourist information once you arrive. 
---
3)  Flights.
We always look for flights first, just because not every accommodation offers 24h – check in.
Having the flight – times on hand makes booking your hotel much easier. 
Websites we use to search and compare prices are Skyscanner & Momondo.
They're both easy to use and with their "everywhere"- function you can get lots of inspiration on destinations you might not have thought about in the first place.  
Basically you just put in your dates, your preferred airport (try multiple options if you can) and prices as well as flight times are displayed.
Sometimes, flights setting off in the early morning or late at night sell at a better price.
Once you've found the perfect ones for you, check the price for any additional fees such as oncosts for luggage or for selected seats.
• Most airlines now charge for bringing on luggage that exceeds the permitted dimensions for carry on- baggage, so you really want to pay attention and have the final price revealed before you hit "BOOK". 
• Downloading your boarding pass onto your phone or within the app of the airline can be a lifesaver if you were to lose your paperwork.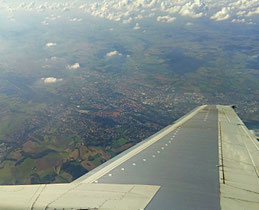 ---
4) Accommodation.
Whether you fancy a nice hotel or a bunk bed in a basic hostel, locations is key.  
You might have a longer transfer time from and to the airport by choosing a hotel downtown, but it won't take you too long to get to all the sights you'd like to see.
For the most part, we book our stays on booking.com and up to now we're more than content with their service.
• A central room is often more expensive, but you'll save money on public transport if you can reach the city center within walking distance. 
By using this link and paying for your stay with credit card,
you get 15,00€ back on your credit card and we get the same amount credited to our account.
You won't pay more by using this link, of course.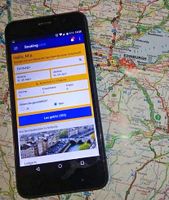 ---
5) Travel Insurance.
It stands to reason that when it comes to traveling, nobody wants to think about the annoyances like stolen luggage or, even worse, health incidents.
There are lots of options to choose from and it of course depends on what you want your insurance to include. We're not going to give any recommendations, we'd just like to put you into the mind of how a few minutes time and some clicks can save your day. 
---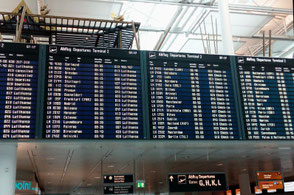 ---
Now that we have flights & accommodation set up, here are some add - ons to think about:
• Getting to and from the airport / Carpark.
Option A: Check your options and prebook your tickets for public transport.
Option B: Pick a car park with a shuttle service to the airport.
Which option you go for is entirely up to you; just choose the one that suits you best.
• Transfer from the airport to your accommodation
Especially if you arrive in the early morning or late at night, public transport might not be in full service.  Booking a private transfer to pick you up and drop you off might be a good idea. Whenever we need one, we book it on Rideways.com they offer convenient, reliable service on a decent price and their customer service is on point!
• Buying tickets for sights, public transport, etc. online.
Lots of places of interest offer online – ticketing so you can avoid long queues. Same goes for tickets for public transport. Sometimes a small service fee applies, but it saves you a lot of time and hustle.
• Communication.
Fortunately almost anyone around the world speaks English; nonetheless it's always smart to know at least a few words in the local language.  It helps you to get by, to ask for directions, for help and locals will be delighted to see that you're trying. A simple "Thank you!", "Goodbye", "Have a nice day!" in their customary language goes a long way. 
• Bad weather backup plan"
A rainy day doesn't have to ruin your holiday, looking up museums, swimming pools,.. beforehand will save your trip as well as your mood.
• Research.
Taking notes of the accessibility of the embassy, a hospital and the police (phone numbers, addresses,..) comes in handy in case of an emergency (loosing passport, feeling sick, having belonging stolen,..)
- The Federal Foreign Office provides safety information for travelers to every country in the world online. Take a few minutes to read through them to be aware of things to know about your destinations. (Laws on certain instances, health care,..)
• Preparation.
•Packing a spare change of clothes in your carry on – bag can be very helpful, especially on a long haul flight or in case your bag is misguided.
Same goes for any valuables and medication that you need to take along.
• Offline Accessibility.
A screenshot of your booking confirmation to make it available offline comes in handy to access the address of your accommodation easily.
• Safety.
Take the time to copy your passport / ID card and email it to yourself. In case of an emergency, if you can show the copy, the embassy will be able to provide you with a new one much quicker. 
---