* This blogpost does not contain sponsored content.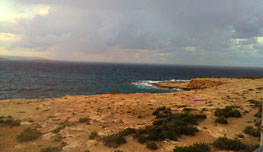 We swapped our coats for shirts and the foggy drizzle at home for some sunshine & vitamin sea!
There's nothing like a spontaneous trip to the beach, right?
So off we went to the beautiful Islands of Malta!
Yes, there's three of them! 
The main island Malta, Gozo & the small island of Comino.
On the first trip to Malta in 2015, we also went to Gozo and Comino, both of them are not to miss out!
You won't expect so many possibilities to spend wonderful days on these rather small islands!
---
Here's a little throwback to 2015:
---
Let's get back to our recent trip! 
---
Unfortunately, for the first time in all our travels we had to do a swap of accommodation, as the hotel we planned on staying at fell short of expectations.  This is nothing we'd say casually, as the both of us are by no means dainty, but if we are not feeling good about a place, we leave.
That's actually something, we'd recommend to everyone travelling.  
Listen to your gut and if a place doesn't feel right, you'll always find an alternative.
We decided to stay in San Pawl il – Bahar, Qawra to be more precise. It's a popular tourist resort place, which means that there's a high chance of some noise going on at night.
So if you are easily affected by that, you might want to find a more calm area to stay.
(Mdina area for example)
Having said that, let's move on to the best part of traveling. Waking up in a new place you've been wanting to come back to in a while!
Getting up with sunshine tickling our noses and the feeling of excitement and joy set our day up to a great start and after we had found and  a m a z I n g place to stay for the remainder of our trip, two happy travelers hopped onto the bus en route to Valletta.
While the Maltese language (Malti) might be hard to navigate, the Maltese Islands aren't.
Public transport works on point and you can choose the ticket that works best for your needs.
(Bus ticket valid for 2 hours: 1,5 € / for example)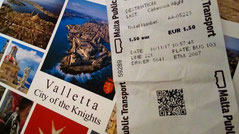 We made a short stopover to see the Rotunda of Mosta and we weren't disappointed! We recommend to take some time to look around the church and the stunning establishment.
The small but bustling capital Valletta offers beautiful views around every corner and every time we stroll through the colorful alleys we find us at a loss of words for the prettiness of this place.
The best way (if there's actually one) is to, as cliché as it may sound, to put down the map and get "lost". Actually, Valletta is pretty easy to navigate and while Republic Street appears to be quite busy, you can make your way to the Lower & Upper Barakka Gardens for some quiet rest and amazing views.
As we had missed Fort St. Elmo on our last visit, we gave it a go and the view over the sea and over to Fort St. Angelo is priceless! You shouldn't miss it!  
We went for a snack to Eddie's Café, as we did 2 years ago. It's popular and sometimes crowded, but for good reason.
Beside from their great dishes, the location is perfect to sip a coffee and watch fellow travelers mix with locals on lively Republic Street.
---
The second day rolled around and we made our way up to Mellieha Bay, were we slipped off our shoes and dipped our toes into the fairly could Mediterranean Sea.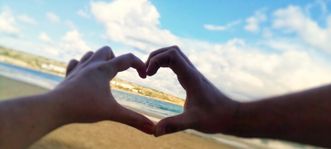 We sat on the beach while we listened to the sound of waves (best sound in the world, right?).
The bus then took us up to Mellieha Parish Church, were we spent quite a while wandering around the shaded grounds taking lots and lots of pictures. You don't have to have a thing for churches to admire this one!
Mellieha itself is a gorgeous spot as well and most of the time it's not that overcrowded (except for the beaches in summer, of course.)
As dusk rolled around, we took another long walk through Qawra and before we knew it, it was time to pack our belongings back up to catch our flight the next day.
Before we hopped onto our flight, we spent some time at the Malta Classic Car Museum in San Pauls Bay. Even if you are not that big into cars, this place takes you back into the history of motor vehicles and it definitely is so much more than a "bad weather – backup – plan").
---
Sahha! & Grazzi!, Malta!
It's been a pleasure coming back even though it was a short reencounter,  if ever we feel like getting some (late) summer vibes, Malta will (still) be up on the books for a third visit! 
♥
These 3 islands offer literally everything a traveler could ever want.
Amazing architecture, beautiful beaches, friendly & obliging locals and ..
.. why don't you come along and convince yourself?
If there's anything you'd like to know, please do not hesitate to ask! 
---
For your trip:
If you are planning on renting a car and you aren't used to driving on the left, Malta is not the best place to learn to do so. Traffic can be quite crazy, so please keep that in mind.

Don't expect Malta, Valetta in particular, to be less crowded during off-peak season, due to cruise ships still stopping by you''ll be surprised about the number of tourists.

You might want to bring a travel plug to use your electronic items, since the british plugs are still pretty common in hotels.

Don't worry about communication, everyone speaks English fluently and people are very happy to help.

When buying tickets for the bus, it helps to have the exact amount of money ready to hand over to the driver.

Our hotel -: (after we moved) -: Il Pallazin Hotel, 31 Brankutli, San Pawl il-Baħar
---