* This blogpost does not contain sponsored content. 
Let's just get one thing out the way first, travelling with carry - on luggage only obviously is not for everyone and not every occasion allows for limited baggage. 
Anyway, we've put together 6 reasons why you may want to give it a go.
This does by no means say that we are "professionals" in terms of packing but since we've done quite a bit of traveling so far, there are some aspects we'd like to provide you with. 
#1 COST
This one might be the most significant reason to downsize your luggage. More and more airlines charge their passengers for checked luggage. The fees can vary from 20 € to about 40€ per piece of luggage per flight. While traveling, there are so many instances to spend your money on amazing experiences, so do you really want to expend your travel budget on your luggage? 
---
 #2 SAFETY
Travelling with just one smaller piece of baggage makes it much easier to keep a wary eye on your belongings.
Therefore you won't be that much of a target to thieves and pickpockets.
---
#3 CONVENIENCE
Toting around a heavy piece of luggage can be nerve – wracking, especially when using public transport or if you were to visit various destinations during your trip. 
---
 #4 TIME
Nobody wants to waste time while travelling, right? Checking – in your suitcase at the airport and waiting for it at on the other side both takes time. So you may want to ask yourself whether you really need that much luggage. 
---
 #5  LEARN TO DOWNSIZE LUGGAGE
More often than not you don't need as much as you think you need.  Having limited space in your suitcase is a great way to think about what you really need to bring along. 
---
The key to avoid packing – confusion is preparation!
Here we have so tips to help you pack light & simple:
---
Check the airline restrictions: On their websites, they have their luggage restrictions written out, including the allowed dimensions for hand luggage.

Use packing cubes to keep your belongings tidy. They also help to squeeze down your goods. (We use the ones from Eagle Creek, but you can find many options online) Along with that: Rolling your clothes can help you create even more room.
Take a look at the liquid restrictions for hand luggage (liquids need to be fewer than 100ml, stored in a Zip – Lock bag, not exceeding a maximum content of 1l)

Measure and weigh your bag after packing, a luggage scale is a great tool to have on hand.

Don't forget luggage tags & locks.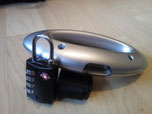 Prepare to do laundry. Whether you pack laundry detergent or catch up on laundry facilities at your destination is up to you. 

Do your research and think about your trip, check the weather forecast and pack according to your planned activities (hiking, swimming,..)

If you are planning on bringing any electronics, make sure to pack them together in one case, so you can just pull them all out at once at the security check. 
Our backpacks:  Osprey Farpoint 40 & Dakine Split Adventure 38
As always, if you have any questions, please reach out, we are happy to help!