* This blogpost does not contain sponsored content.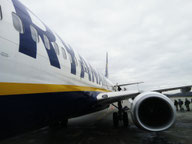 Actually, if you catch the two of us up that early in the morning on a sunday, it's because we have a plane to catch
.And this time was no different.
It was an outright compelling flight – deal popping up in our inbox a few days before, which got the two of us on a far too early flight towards Poland. 
Our destination, the country's second – largest city, dating back to the 7th century, has been heading our bucket list for a while, so off we went to Krakow!
Cześć, Krakow!
We may not have gotten the warmest welcome when we touched down on Krakow – Balice – Airport, as it was quite windy, but we were so excited to get to explore this place!
It took us only a few minutes on the bus to get to our accommodation for 2 nights, the Dizzy Daisy Downtown Hostel. 
Since we arrived before check –in – time, we were offered to store our bags in the luggage room while having our first walk through town.
One of the many benefits of this hostel is its excellent location! 
A 10 – minute walk took us past the Barbican, a historic gateway leading into the old town and when we entered Brama Florianska, the main square – Glowny Rynek, was only a few steps away.
Even though we had seen a host of pictures of this huge square, we were blown away.
To the point where we just stood there for quite a few minutes to just take it all in.
On this bustling place, tourists mix with locals, kids feeding and chasing the doves bump into travelers expectantly looking upwards St. Marys Church eager not to miss the St. Mary's Trumpet Call.
This traditional anthem is played every hour by a trumpeter on the highest tower of Saint Mary's Church.
We took our time to stroll round the Rynek, got the typical snack "Obwarzanek" and prior to us getting a taste of it, we were surrounded by huge amount of doves, demanding us to share our food.
They're pretty straight forward and before we knew it, they were sitting on our arms, satisfying their hunger.
We went on to take a closer look at the Cloth Hall, dominating the middle of Rynek Główny.
It was once the centre of Kraków's medieval clothing trade and now it's the perfect place to get those typical wooden figurines, Amber ornaments and of course cheesy clutter.
We went for some postcards to send home (oldfashioned, right?) and continued our tour towards Wawel Hill. 
At this point, the sun vanished more and more behind dark clouds and the moment we hit the top,
the wind blew the tiniest snowflakes down on our astounded cheeks.
We watched the snow falling from a shelter and immediately the vibrant area up there came to a hold.
Everyone just contemplated the snowflakes dancing round the towers of Wawel Cathedral until only a few minutes later, the sun reappeared and the wind breathed life into the square again.
The view from the Hill is priceless and we highly recommend getting up there!
Craving some warming – up, we made our way back and since we were pretty hungry, we ended up in "Restauracja Max 18", located straight on the main square.
Eager to try some Polish food, we got to try vegetarian "Pierogi", filled dumplings with (in our case) mushrooms.
You can also get them stuffed with ground meat, cheese, cabbage,..
Try them, they're yummy! (But also quite filling, so you might want to share one plate.)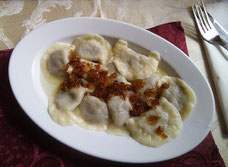 Full and happy, we set out to another walk through the picturesque alleyways before coming back to the hostel to check - in and get settled.
This place is a true gem!
We were greeted with big smiles, endless hospitality and got to stay in a greatly comfy room!
The cleanliness is amazing and overall we were extremely happy with our choice. 

The next day started bright and early in order
to make the most use possible out of the cloudless, sunny weather.
Having coffee on the Rynek while watching the sun
emerge over the Cloth Hall was one of a great idea!

We had gotten up early to go back in time. History came to life when we visited Kazimierz,
the former Jewish Quarter, with its ancient synagogues and its "back – in – time" – vibe.
Every building in this area tells its own story and the narrow alleys are perfect to put away the map and just get lost. 
For lunch, "Bagelmama" was recommended to us and we quickly learned why!
We cannot help but pass this tip on!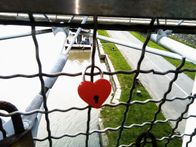 As we love the idea of putting a little red lock on bridges all over the world, we did some research beforehand and fortunately, there's a love bridge only a few steps away from our lunch – spot. (Kładka Ojca Bernatka).
And a couple of minutes two happy travelers added one cute lock to this special place. 
Next on our "list" was the Planty park, established in the early 19th century to replace the destroyed city walls. It's the perfect spot to unwind, relax and take a rest.
Only a stone's throw away from Wawel Hill, in Planty Park, we found Dzok.
This monument is dedicated to a dog and his tragic story.
Dzok was left orphaned after his owner died and he would wait patiently for almost a year for his friends return. He then went home with another kind lady and after she also passed away, he was taken to a dog shelter.  Unfortunately, he escaped and got run over by a train.
Since 2011 a sculpture reminds people of his boundless love for his master. 
For a cosy rest, Slodki Wentzl turned out to be as if it was made for us! Hof coffee and delicious cake (they even have vegan options!) while the sunset creates stunning a priceless lightning over the Rynek was without a doubt one of our highlights!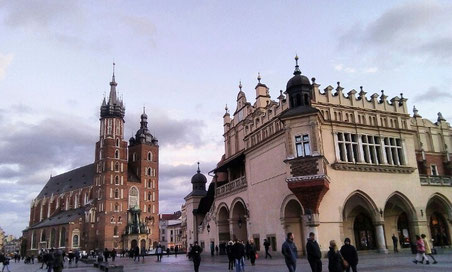 We would have loved to go for a drink (or two) in one (or two) of the bars round the main square, but since we both developed signs of a cold, we figured that staying in at the evening would be the smarter decision. (That makes for one more reason to come back!)
After (only) 3 days, we now had to pack up again before check – out was due the next morning.
Public transport is so well – organized and took us the airport much quicker than we actually wanted it to.
Goodbyes are never easy, but Krakow managed to make it even harder! ♥
We felt very blessed and as everyone we met on the road showed us hospitality and offered a helping hand we couldn't help but fall in love with this city.
And so will you! ♥
For your visit:
Where we stayed: https://www.krakowhostel.pl

Where we had the best coffee: Café Noworolski (The interieur will take you back in time!)

Where we found the loveliest souvenirs: https://www.instagram.com/lookarna.illustrations/

Further information: http://www.krakow.pl/english

Tip: Try to use your big Złoty – bills at restaurants or bigger shops, as venders on the street or in smaller shops have a hard time dealing with them.