* This blogpost does not contain sponsored content.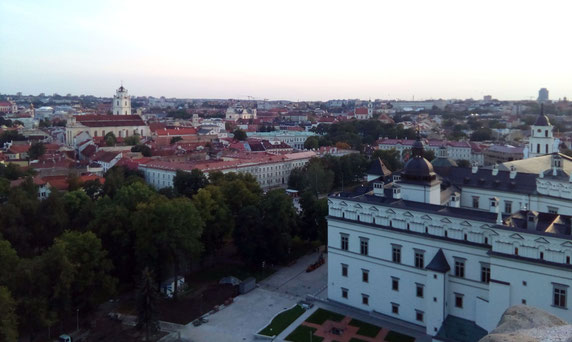 "They're located somewhere up the north, right?" 
"Is there even anything attractive to see?"  
Let's just answer these two out of many similar questions we got before we left to the Baltics.
First: Nearly true, Latvia and Lithuania are located between the Russian exclave Kaliningrad and Estonia in North – Eastern Europe.
Second:  Since we went to Tallinn (and Helsinki) the year before it was only right to complete our Baltic adventure and while we were doing some trip planning we quickly learned that there's no way to see everything these 2  countries had to offer within this limited amount of time.
To prevent this blogpost from getting way too long, we are just going about our "highlights", even though this entire trip was nothing short of an adventure. 
The itinerary:
To give you a rough idea of what were up to: 10 days, 2 backpacks and way too much excitement.
Out of 10, we spent 3 days in Riga, went on to Kaunas, onwards to Klaipeda and finally we had a good 3 days in Vilnius before our flight home. In between, we did daytrips to the Baltic Sea, the Europas Parkas and the Water Castle of Trakai.
This made for quite a schedule and we were aware of the lack of time but were adamant to see as much as we possibly could.
Latvia.
Our journey to Riga started on a cold Sunday (for whatever reason, we have a slight tendency to fly out on Sundaya) morning in September. The shortage of sleep met the excess of joyful anticipation once we were picked up by our friends who were kind enough to sacrifice some sleep to drop us off at Munich Airportbright and early.
(Thank you, once again, T. & S., you guys made for the best airport – shuttle! ♥)
The "Beauty of the Baltics" showed off her clouded face when we stepped off the plane and since public transport is bliss
(all over the baltics, by the way)
we made our way around town very easy and convenient.
The hotel we chose was just as awesome as our first impression of the city we gained on our long stroll through Riga Old Town. Sadly, the House of the Blackheads was under construction, but the Freedom monument and especially the "Centraltirgus" (Centralmarket) made entirely up for it.
Riga is possibly the most "touristy" place in the Baltics.
– For a reason! It's really beautiful.
We spend our days trying Latvian food, snapping tons of pictures and hopped on the most beautiful old train to see Jurmala, a small, old resort town on the baltic seaside. 
Jurmala marked one of our most desired places to see on this trip and man, our wishes came true! The infinite amplitude made us feel like we had the beach to ourselves (as it was the end of September, that was pretty much the case). We spent hours strolling at the beach, collecting shells and enjoyed this feeling of freedom and fortune.
Earlier than we thought it was time to pack up catch the bus crossing the border, heading to Kaunas.
The 3 – hour bus ride could not have been any more convenient. Comfy seats, WiFi and stunning views as the countryside rolled past the two of us. 
Lithuania.
Kaunas turned out to be far more than what we wished for! Our AirBnB was perfect and after a long bus ride, there's nothing better than a long walk, right? This city is one of those places you just don't imagine to be this stunning! There's absolutely no shortage of beautiful architecture and the Church of St. Michael the Archangel is the best example! The view over the town from our apartment was amazing and made for the perfect reason to procrastinate packing and just gaze ot the window.
The bus took us to lovely Klaipeda, the country's third largest city. We had found a pretty special accommodation and we weren't' disappointed. The Simon – Dach – House is the domicile of the "Association of the Germans in Klaipeda" and offers nice and comfy rooms not far from the Old Town. The staff is simply awesome and we loved to stay here (even though it was just for one night).
After we had the best Lithuanian food, we figured that since our last time at the beach was far too long ago, it was about time to catch the ferry to Smiltynė and get some beach – feeling again!  
We reached the pristine, vacated beach and the sound of waves caught us straight away. We sat down on the wooden stairs leading from the slope to the sand, enjoying the silence and taking it all in. The waves crashing onto the shore and the sun unraveling the clouds here and there was a sight to behold.
It was the rain hustling us back to our guesthouse and we literally fell asleep rummaging through all the pictures we had taken on the beach. 
To mark the last destination on our "list", we were up to head to Vilnius.
Settling into our apartment wasn't a hard task as we couldn't have chosen a better host. We grabbed our cameras and ventured into the city and within minutes we fell in love.
In love with the sensory overload of all the beautiful views, in love with the bloom of coffee and Lithuanian food coming from left, right and center and in love with watching the sunset over the town from Gediminas Hill. Even though we didn't have the hill to ourselves, the atmosphere was unique.  People were sitting on the mural, taking pictures, talking to each other and stroke up conversations with foreign fellow travelers.
Usually, there's (almost) always that one traveler disrupting the ambience by loudly conducting a conversation on his phone. Not this time.
Everyone was cautious and everyone was enjoying the special atmosphere created by the sun slowly dwindling down.
We met so many amazing people this evening and our stay in Vilnius was off to a great start!
We felt very safe here (just like in every other city we've been to during this trip) and we could not wait to explore this city further more after a few hours of sleep in - may we add – the most comfortable bed on this journey. 
Vilnius really converted us to be earlybirds. There's just no way to hold on to your sheet in a town that stunning.
Getting around is easy, the sights aren't too wide spread so you can easily walk through all the alleys in the Old Town. Just follow Universiteto gatve and you won't expect you be lead directly to the Cathedral and the Palace of the Grand Dukes of Lithuania. We loved Vilnius for the hospitality of its people, for its inviting vibe and the huge amount of bars to have a beer in the evening. (For real though, there are a lot and you should not miss out in the beer, it's delicious!)
We took 2 daytrips out of the city and both were absolutely worthwile!
The Europas Parkas is kind of an outdoor museum of art and includes the Monument of the Geographical center of Europe. It's a great spot for some nature – down – time and we highly recommend a visit! This place hast its own special vibe and you can easily get lost (on purpose) within all these special art features. The actual center is a pyramid shaped rock bathed in sunlight, the day we got to see it and it seemed unreal to actually stand at the "heart" of Europe. 
If you're into (medieval) architecture, definitely make your way to the Trakai Island Castle! It's only a short bus – ride from Vilnius and it's so worth it! (Tip: Plan your trip early in the morning for amazing lightning and avoiding the crowds)
Time, as always, flies during the happy times and when it was about time to board our plane to go back home we couldn't feel more blessed.
These two countries were a dream come true and if ever the chance for another visit pops up, we'll be all about it! 
Special Thanks to AirBaltic for our pleasant, on schedule flights!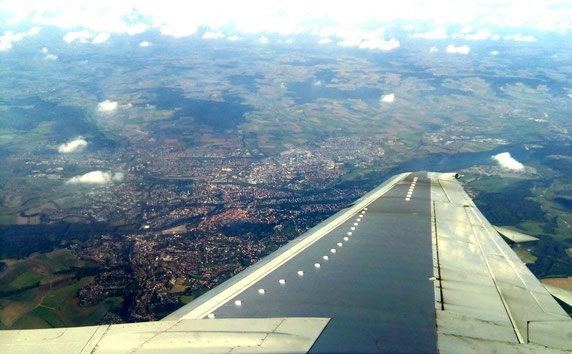 For your trip:
The effort to learn a few words Latvian / Lithuanian pays off! You speak Russian? You're in luck!

Don't worry about getting from place to place! Public transport is on point and long distance busses open up a lot of possibilities since they connect not only cities in the Baltics, but also offer connections to Russia,…

(We traveled with Kautra, Ollex and Eurolines)

Try the local food! Don't be afraid to ask for help if you have trouble reading the menu.

Pack light. Storage room is limited on public transport, so try and downsize your luggage as much as possible.
✈ If you have any questions, please do not hesitate to reach out! We are happy to help!